Hurricane Tips for Boaters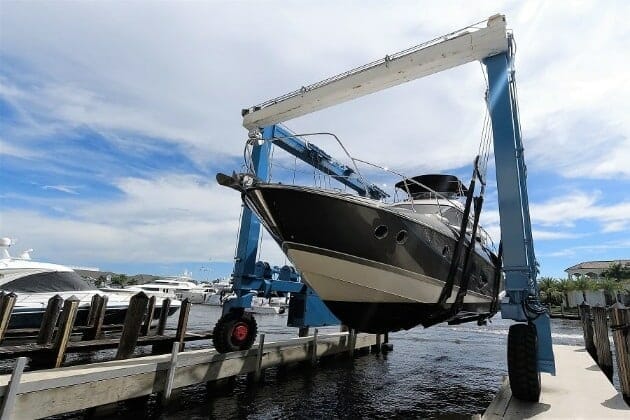 Hurricanes are unpredictable. Heavy rain, wind, storm surge or tornadoes are all possible. So, no method of securing your boat during a hurricane is foolproof short of removing it from the affected area. But steps can be taken to minimize damage.
Hopefully you are reading this outside of hurricane season, which occurs June through November.
The best approach to securing your boat for a hurricane is to be ready before a storm happens.
Now is a good time to review important documents to make sure you are adequately covered in the event of a storm.
Make a photo or video record of your boat and its contents and store it in a safe location, along with the registration, insurance documents and any lease agreement you may have with a storage marina.
Securing Your Boat On Land
The foundation of of a good hurricane plan is to haul your boat. Boats that are hauled out are far less likely to be damaged during a hurricane than those left in the water.
Some marinas and yacht clubs have valuable evacuation plans in place. When a storm watch is issued, customers are required to be present with their vessel at the facility. You will have to secure certain items in advance, but the marina will handle the rest. These facilities are designed to manage storm surge and provide more secure storage during an event.
Even if you don't have a plan with a marina, smaller boats can be trailered inland, away from tidal surge. Keep your boat trailer maintained. Special attention should be paid to the tires and wheel bearings. Trailer lights should be fully operational.
In the event your trailered boat cannot be moved, you still can take steps to secure it. Preferably, it is sheltered next to a building, and away from falling branches. Removing air from the tires will keep it from rolling. Add blocking around the tires, remove any loose items like covers, cushions and Bimini tops. Strap the boat to the trailer. Securing your trailered boat with straps tied to eyes embedded in concrete is an extra measure against wind and rising water.
Securing Your Boat In The Water
If you have access to a fixed dock, having thicker and longer lines will better secure your boat. Depending on the length of your boat, anywhere from 1/2″ to 1″ lines may be necessary. Chafing is often the cause for lines breaking during a storm, so protectors are a good investment. You can even use surplus firehose as a chafing guard!
A dock line is only as good as what it's attached to, so make sure your dock cleats are robust and are secured to a solid backing. Likewise, your dock pilings should be sturdy. A rotted wood piling or compromised concrete piling can give way under enough pressure during a hurricane.
The proper way to tie your lines will depend on the configuration of the dock, using a combination of spring lines and anchors. Think of the lines as forming a web that suspends your boat in the middle. Refer to an experienced local captain for your best option. This article goes deeper into the subject.
Ideally your boat should be facing into the storm and attention should be paid to the transom platform. If a platform gets hung up and ripped off, it could create a breach in your boat's hull.
Floating docks don't require extensive lines since the dock and boat move together. However the pilings need to be tall enough that the storm surge does not exceed them.
Attach fenders to help cushion any blows your boat may suffer from other boats, or if a line does break.
A WORD ABOUT BOAT LIFTS
Boat lifts or davits can break under the weight of rain water accumulating in your boat, or by storm surge during a hurricane. If you have no other choice, it is advised to leave the boat drain plug open and to secure your boat to the lift with straps ahead of the storm. Again, it is better to take the boat inland or to a qualified boat storage facility.
Mooring in open water is not advised, and should only be a last resort. NEVER stay in your boat during a storm.
A boat on a mooring in open water can swing to face the wind. This reduces resistance or "windage" that can stress a boat. Of course, the mooring must be far enough away from other boats or fixed objects.
Using two anchors at ninety-degrees to each other can also be effective. The length of the lines and size of the anchors will depend on the depth and bottom structure. Chain is often used in open water mooring.
If you have access to a canal your vessel could be protected during a hurricane by tying it off from either side, even utilizing trees if dock pilings are unavailable. Again, facing the boat into the direction of the storm or mouth of the canal is your best bet.
Consult with a licensed captain and refer to an up-to-date NOAA chart of the local waterways before attempting any of these methods.